The term churrasco refers generally to any cut of meat cooked on a bed of hot coals or using a skillet. Brazilian churrasco would include fraldinha, picanha, porco (pork), frango (chicken), cabrito (goat) galinha do coracao (chicken hearts) and spicy sausages like linguica.
Popular side plates include a variety of green salads, potato and carrots, beetroot, bean salad, heart of palm and tomato salad.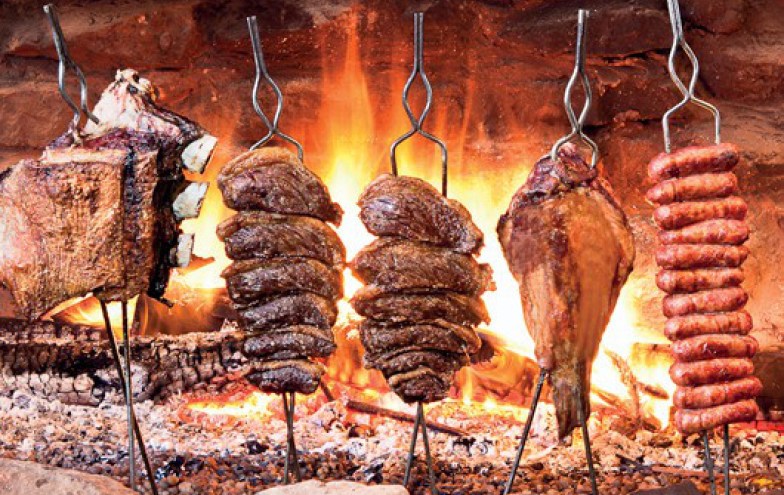 The history of churrasco goes back to the times of the gauchos – known as cowboys in US, vaqueiros in Brazil, llaneros in Venezuela and Colombia, guasos in Chile, etc – that originated at the end of the 1600s, when the Spanish conquistadores brought the horse to the New World. Cattle ranching was introduced to the Rio Grande do Sul region of Brazil and Gauchos, herded these cattle, and created a new style of cooking. They called it Churrasco, which is Brazilian barbecue.
Huge ranches had sprung up, and the cowhands who worked on them had to travel vast distances to herd their cattle. During the weeks and months that they were out on the range, these Brazilian cowboys ate barbequed meat, which was nutritious and easy to make with all the meat at hand. It was at this point that churrasco took on the form we recognize today, with a fire pit surrounded by skewers of meat stuck in the ground.
But the barbeque is not unique to Rio Grande. It existed all over South America before the arrival of the Europeans. In fact, historical records mention coócai, a primitive roasting method, and coócatuca, or meat on a skewer, which were used by the Indians.
It starts with a fanatical devotion to high-quality meat and special cuts. The hunks of meat are stabbed onto the skewer and then slow-roasted rotisserie-style over charcoal to lock in the juiciness and flavor.
When the top layer of the meat is browned, it's sliced off fresh to serve.
Every other weekend, at brunch time, the lobby of the Rose Garden Hotel Yangon turns into a ball room very much alike the patio of an hacienda. Cactus pop up on the tables. Waitresses are wrapped up in red and green dresses. Waiters sport ponchos and Mexican hats. It all becomes a very Latin affair.
Join us to lilting Latin Music and quench your thirst with our free flow Bacardi Mojitos, soft drinks or cool off in our swimming pool surrounded by the lush greenery of our garden. Along with the delicious food offerings, we also have Latin social dancing, classes and performances from 12:00 noon onward by Ian Julius from Fusion Dance Troupe.
Only USD $26.00 net per person!
For more information email info@theroseyangon.com or visit HERE